OVERVIEW:
NSS volunteers generally work with adopted villages, slums and voluntary agencies to complete 120 hours of regular activities during an academic year. As per the fundamental principles of National Service Scheme, a volunteer is expected to remain in constant touch with the community. Special camps are organized generally on various developmental issues of national importance. In the past, the themes of the Special Camping Programme have been 'Healthy Youth for Healthy India', 'Health, Public Sanitation and Personal Hygiene'.
Few specific objectives are:
To understand the community in which they work.
To understand themselves in relation to their community.
To identify the needs and problems of the community and involve them in problem solving process.
To develop among themselves a sense of social and civic responsibility.
To utilize their knowledge in finding practical solution to individual and community problems.
To develop competence required for group living and sharing of responsibilities.
To gain skills in mobilizing community participation.
To acquire leadership qualities and democratic attitude.
To develop capacity to meet emergencies and natural disasters.
To practice National Integration and social harmony.
Motto:
The motto or watchword of the National Service Scheme is 'NOT ME BUT YOU'. It underlines that the welfare of an individual is ultimately dependent on the welfare of society on the whole.
Symbol:
The symbol of the National Service Scheme is based on the 'Rath' wheel of the Konark Sun Temple situated in Orissa. These giant wheels of the Sun Temple portray the cycle of creation, preservation and release; signify the movement in life across time and space. It stands for NSS for social transformation and upliftment.
NSS Badge:
The NSS volunteers wear an embossed badge while undertaking any programme of community service. The Konark wheel in the symbol has eight bars which represent the 24 hours of the day. The red colour in the badge indicates that the NSS volunteers are full of blood i.e. lively, active, energetic and full of high spirit. The navy blue colour indicates the cosmos, of which the NSS is a tiny part, ready to contribute its share for the welfare of the mankind.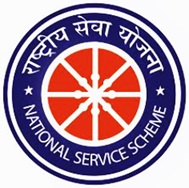 NSS Day:
NSS was formally launched on 24th September, 1969, the birth centenary year of the Father of the nation. Therefore, 24 September is celebrated every year as NSS Day with appropriate programmes and activities.
List of NSS Activities:
Blood Donation
Digital Awareness
Haritha Haram(in college)
Haritha Haram(in Chinna Shahpur)
Republic Day Celebrations
Independence Day Celebrations
Swach Bharath
Women empowerment
Women's day celebration
Awareness on water conservation
Vidya Upakar(Books collection and donation)
Survey in villages
Plastic Collection in college surroundings
Fit India
Induction Program for freshers
NSS Gandhian Youth Conclave
Participation in State Level NSS Camp @Bakaram Village
Rashtriya Ektha Diwas Rally
Awareness Program on "Blood Cancer" by Datri Foundation
Awareness program on IAF(Indian Air Force)
Participated in "VIVEK BAND" – "Be good Do good" program
Inter college Elocution competition by ISKCON
NSS Golden Jubille Celebrations
UBA – Rural Immersion Training Program
Participated in Bharatiya Chaatra Sansad (Indian Student Parliament)
District Collector's Visit to the NSS Special Camp
Poster Making Competition
Awareness on Waste Segregation
Village School Gate Painting
Conducted Dental Camp at Chinna Shahpur Village
Aatmanirbhar Bharat Online Campaign
Voter's Day Pledge
VARIOUS ACTIVITIES CONDUCTED
| | | | |
| --- | --- | --- | --- |
| Sl.No. | Name of the Activity | Date | Details |
| 1 | NATIONAL YOUTH DAY | 12.01.2023 | |
| 2 | Women's Day Celebrations | 08.03.2022 | |
| 3 | Republic Day Celebrations | 26.01.2022 | |
| 4 | Republic Day E-Quiz Competition | 26.01.2022 | |
| 5 | Independence Day Celebrations | 15.08.2021 | |
| 6 | Independence Day E-Quiz Competition | 15.08.2021 | |
| 8 | Fit India Movement | 17.08.2021 | |
| 9 | Tree Plantation Drive | 28.07.2021 | View Details |
| 10 | Republic Day Celebrations | 26.01.2021 | |