The institution has adequate facilities for teaching-learning, viz., classrooms, laboratories, computing equipment, etc.
There are 4 building blocks namely
Block-M (8670.14 SQM) that comprises Departments of ECE, ECM, CSE, IT, Auditorium, Administration Office, Examination Office, Training and Placement Office and Central Library.
Block-A (III) (3752.28SQM) with Departments of ME, CE, EEE, Mining and MBA.
First year (H&S) Block (3207.98 SQM) with Department of H & S, Office of the Secretary, Office of the CEO, and IT Server room.
Mining Block (1313.7SQM) that comprises labs of mining department and 03 seminar halls.
06 sheds (1574) comprises Mechanical Engineering department labs & workshops, Electrical & Generator rooms.
The institution has augmented new infrastructure and learning resources essential to maintain, redevelop and augment the existing ones in the last 5 years as given below:
| | | | |
| --- | --- | --- | --- |
| S. No. | Type of Infrastructure and Learning Resource | 2015-16 | 2019-20 |
| 1 | Total Built-up area (sq. m) | 15630.4 | 18518 |
| 2 | Classrooms with ICT Facilities | 31 | 59 |
| 3 | Seminar Halls/ Auditoriums/ Board Rooms with ICT Facilities | 03 | 06 |
| 4 | Computer Laboratories with ICT Facilities | 11 | 40 |
| 5 | Library Book Titles | 8990 | 9913 |
| 6 | Library Book Volumes | 66053 | 73986 |
| 7 | Computers with Internet | 353 | 1128 |
| 8 | Internet Bandwidth (Mbps) | 64 | 500 |
ICT Tools in Teaching-Learning Process
1. LCD Projectors in the Teaching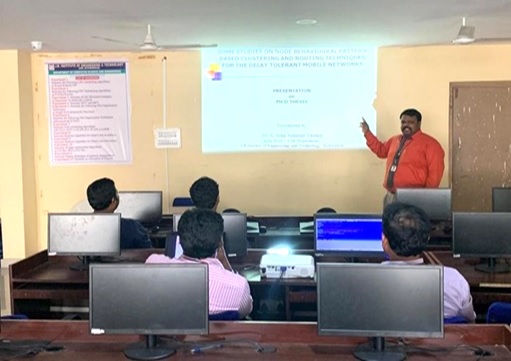 ICT Tools in Teaching by Dr.Arun Thomas on MANET
Seminar Hall - ICT Tools in Teaching by Mr.Sathish on Decision Tree Algorithm
Wi-Fi and LAN Facilities
All the Campus is connected on a single Lan with CAT-6 Cabling inside the building and Fibre connectivity for Building to Building.
All the Uplinks will be connected to Central Server Room.
Wi-Fi Facilities provided to students and also for the faculty with Mac binding.
For Wi-Fi facility, TP Link Access points around the Campus is used, To ensure WiFi signal all over the Campus with Primary Bandwidth is 500 MBPS, And Secondary Connection Bandwidth is 500 MBPS. Total 1000 MBPS
Two Firewalls to control bandwidth and the secure access for the internet.
1.Gajshield Firewall 750 Concurrent Users
2.Sonicwall Firewall 500 Concurrent Users
3. Activity based Learning through ICT
Sample Activity Based Learning using ICT
Activity method is a technique adopted by a teacher to emphasize his or her method of teaching through activity in which the students participate rigorously and bring about efficient learning experiences.
Objectives:
To enhance creative aspect of experience.

To build the student's self-confidence and to develop understanding through work in their group.
Outcomes:
Happy relationship between students and students, teachers and students will be developed.
Sample Activity Based Learning task:
Name of the Subject: Big Data Analytics
Faculty Name: Dr.G.Arun Sampaul Thomas
AY / Class / Sem : 2019-20 / IV CSE 'B' / I
Topic for Team Debate among Students:
Who is more responsible for Big Data Processing – Data Scientist (or) Data Analyst?
Asked the students to split into two teams supporting Data Scientist or Data Analyst.
Asked them to prepare for ten minutes as two different teams by referring web resources.
Students were presented the following features for the discussion of Data Scientist / Data Analyst.

Background, Scope, Type of Data, Skill sets, Tools used

Finally, it was concluded with Dr.G. Arun Sampaul Thomas that the two Data operators have equal importance in the Big Data field.
Activity Based Learning by Students on BDA Subject
Sample Activity Based Learning task:
Name of the Subject: LICA Lab
Faculty Name: Mr.G. Anand
AY / Class / Sem : 2019-20 / III ECE / I
Activity Based Learning by students on LICA Lab
Implementation of circuits in LICA lab using bread board in place of Trainer Kit. This concept will also help students learning by doing, one of the pedagogy method.
Sample Activity Based Learning task:
Name of the faculty : Ms.K.Babitha
DEPT/SUBJECT : EEE/BEE
AY/YEAR/SEM : 2019-20 I/I sem
"A Quiz was conducted on all the topics of Basic electrical engineering course"
In order to give students a break from traditional classroom learning, there is a dire need to revive the quiz culture classroom teaching.
Students were divided into groups
Faculty has ensured that all main topics in the course were covered through the questions.
this method of teaching has helps in making the classroom as an interactive platform for students and faculty and it also encourages team work among the students.
Quiz based activity Learning by students on BEE Subject
SAMPLE ACTIVITY BASED LEARNING
Topic: Bubble Sort & Insertion Sort through Role-play Subject: Programming for Problem Solving
Method:
Students are asked to stand in sequence
Random number cards are given to them
Faculty will explain the algorithm for Bubble sort and Insertion sort by involving students and interacting with them.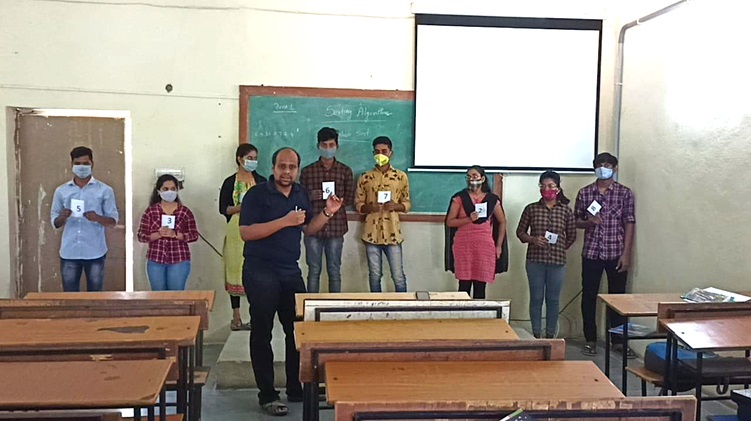 Bubble Sort & Insertion Sort through Role-play Subject: Programming for Problem Solving for 1st Year by Mr.Sathish, AP/CSE
Use of Google classroom
Google Classroom used to streamline assignments, boost collaboration, and foster communication. Classroom is available on the web or by mobile app. We can use Classroom with many tools that you already use, such as Gmail, Google Docs, and Google Calendar.
What can you do with Classroom?
Google Class Room based Interaction with Students on Non-Conventional Energy source EEE
5. NPTEL Lectures
Availability of NPTEL Resources in Central Library
| | | |
| --- | --- | --- |
| Department | No. of Courses | No. of Video Lectures |
| Civil Engineering | 24 | 1002 |
| Mechanical Engineering | 35 | 1662 |
| EEE | 24 | 1015 |
| ECE/ECM | 31 | 1775 |
| CSE/IT | 42 | 2520 |
| S&H | 29 | 1548 |
| MBA | 32 | 1734 |
| Multidisciplinary | 14 | 838 |
| Total | 231 | 12094 |
6. Licensed version of Zoom tool
Licensed Zoom Account & its features:
A licensed user is a paid account user who can host unlimited meetings on the public cloud. By default, they can host meetings with up to 100 participants and large meeting licenses are available for additional capacity. Licensed users have these additional features available:
7. Microsoft Team
Microsoft Teams for Education
Useful to Get classes, meetings, assignments, files, and collaboration — all in one place with Microsoft Teams.
Effective learning, all in one place
Let students, faculty, educators, and staff meet, work together, create content, and share resources in Office 365 Education — featuring the simple, intuitive power of Microsoft Teams.
Some of its benefits are as follows:
1.Collaborate with ease
Meet for free with up to 300 students or community members and access persistent chat to ensure everyone stays connected for learning or work.
2.Engage Learners
Organise classrooms and assignments, collaborate and share files, and access class materials in one central location.
Elevate day-to-day work
Access Insights for the college level and classroom, use apps and integrations to reduce workloads, and build community, all on a safe and secure platform.
Sample Microsoft Team Classes in JBIET:
Mr.Sathish Kumar, AP/CSE – Problem Solving Class for First Year
Mr.Sathish Kumar, AP/CSE – C Programming Operators for First Year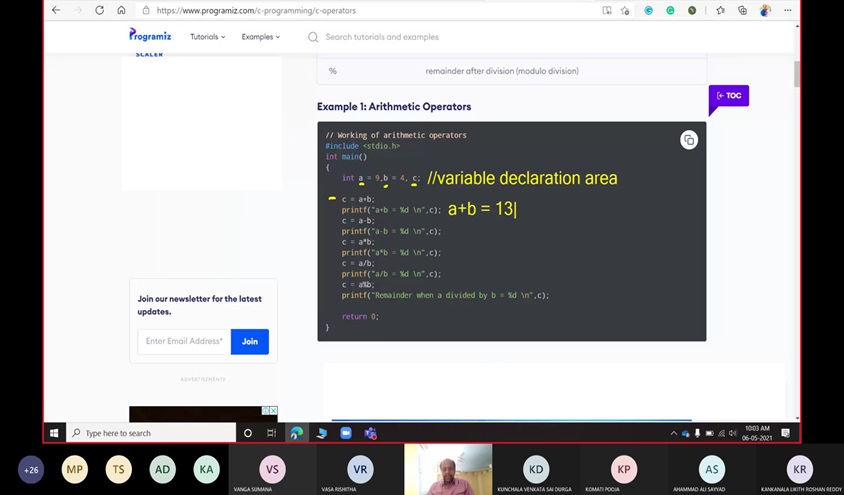 Mr.Sathish Kumar, AP/CSE – C Programming Variables for First Year
8. Simulation Software from all the departments
YEAR / SEM : III B. Tech / II Sem
DEPT / SUBJECT : CSE / Information Security Lab
Simulation Software Name: sniffing software
Purpose of Using:
Network sniffing is the process of intercepting data packets sent over a network. This can be done by the specialized software program or hardware equipment. Sniffing can be used to;
Capture sensitive data such as login credentials
Eavesdrop on chat messages
Capture files have been transmitted over a network
The following are protocols that are vulnerable to sniffing
Telnet
Rlogin
HTTP
SMTP
NNTP
POP
FTP
IMAP
Screenshots:
YEAR / SEM : II B. Tech / I Sem
DEPT / SUBJECT : Basic simulation Lab
YEAR / SEM : III B. Tech / I Sem
DEPT / SUBJECT : Digital Signal Processing Lab
Simulation Software Name: MATLAB
Purpose of Using: MATLAB is a programming platform designed specifically for engineers and scientists to analyze and design systems and products that transform our world. The heart of MATLAB is the MATLAB language, a matrix-based language allowing the most natural expression of computational mathematics.
What Can I Do With MATLAB?
Analyse data
Develop algorithms.
Create models and applications.
MATLAB lets you take your ideas from research to production by deploying to enterprise applications and embedded devices, as well as integrating with Simulink and Model-Based Design.
Screenshots:
YEAR / SEM : II B. Tech / I Sem
DEPT / SUBJECT : Digital Electronics Lab
YEAR / SEM : III B. Tech / I Sem
DEPT / SUBJECT : VLSI Lab
Simulation Software Name : Xilinx Vivado
Purpose of Using: Vivado Design Suite is a software suite produced by Xilinx for Simulation, synthesis and analysis of HDL designs, superseding Xilinx ISE with additional features for system on a chip development and high-level synthesis. Vivado represents a ground-up rewrite and re-thinking of the entire design flow (compared to ISE).
Like the later versions of ISE, Vivado includes the in-built logic simulator Vivado also introduces high-level synthesis, with a tool chain that converts C code into programmable logic.
Screen shots:
YEAR / SEM : II B. Tech / I Sem
DEPT / SUBJECT : Analog Circuits Lab
Simulation Software Name: Multisim
Purpose of Using: NI Multisim (formerly MultiSIM) is an electronic schematic capture and simulation program which is part of a suite of circuit design programs, along with NI Ultiboard. Multisim is one of the few circuit design programs to employ the original Berkeley SPICE based software simulation. Multisim was originally created by a company named Electronics Workbench, which is now a division of National Instruments. Multisim includes microcontroller simulation (formerly known as MultiMCU), as well as integrated import and export features to the printed circuit board layout software in the suite, NI Ultiboard.
Multisim is widely used in academia and industry for circuits education, electronic schematic design and SPICE simulation
Screen shots:
YEAR / SEM : III B. Tech /I&II SEM
DEPT / SUBJECT : EEE/ELECTRICAL CIRCUITS,POWER ELECTRONICS,POWER SEMI CONDUCTOR DRIVES,CONTROL SYSTEMS
Simulation Software Name : MATLAB SOFTWARE ,PSPICE SOFTWARE
Purpose of Using MATLAB SOFTWARE:
Electrical engineering courses are featured on combination of strong and weak electricity and take account into the specialized knowledge of the both. In the design of electricity tests and new products, it will significantly increase the complexity of test system and decrease teaching efficiency if adopting the real physical model design. While if simulating the real conditions by computers, it will achieve the effect that real tests don't have.
Application of MATLAB in simulation of the Electrical Engineering and its Automation
There are problems of various aspects existing in the experiment teaching activities of electrical engineering and its automation. For example, due to the establishment of digital platforms in most courses at present, students can accomplish the experiments via reading guide books even if they do not have a deep insight into the relevant knowledge, which leads to the separation of theory and practice, weakening the students' research ability. In addition, with the fast updating pace of electric appliance parts, the experimental conditions cannot meet the needs of some new-type experiments, large electric power experiments and so on.
The adoption of MATLAB software can enable the computer simulation design and virtual experiment to synchronously implement the design and experiment without the restrictions of components.
it will facilitate the adjustment and coverage of circuit parameters and realize the updating change of the electric appliance parts, which helps improve the comprehensive design and experiment ability of the students.
The simulation is beneficial to cultivate students' thinking and innovation ability, ensure them to master experimental analysis methods on the basis of the grasp of software technology, and boost their study interest.
In the process of teaching activities of electrical engineering and its automation, theories concerning mainly include automatic control principles, modern control theories, power system theories and so on, which are excessively theoretical, and the adoption of traditional teaching methods can hardly achieve the ideal teaching effects.
PURPOSE OF USING PSPICE SOFTWARE:
PSpice increases the students' abilities to comprehend the behavior of electronic components and circuits. One of the main advantages of using this tool is the reinforcement of student understanding of theoretical principles by means of enhanced graphical aids. Simulation results can be used effectively in classroom to emphasize the characteristics of devices and show the similarities and differences that exist between an actual and theoretical characteristic.
9. Online resources like IEEE, Digital Library, and Delnet.
e-Resources/e-Journals
IEEE ASPP
https://ieeexplore.ieee.org/Xplore/home.jsp
e-ShodhSindhu
https://ess.inflibnet.ac.in/oes/memberhome.php
e-Shodhsindhu is free service.
e-Shodhsindhu is free service.
https://nlist.inflibnet.ac.in/collegeadmin/vdashboard.php
4. e-Books
5.Databases
NPTEL VIDEO LECTURES