A one Day Technical Talk on "German Technology for Automobile Engineering" has been conducted for Students of Mechanical Engineering at J.B. Institute of Engineering & Technology, Hyderabad on 5th March 2020.
Two days workshop on CATIA V5 R20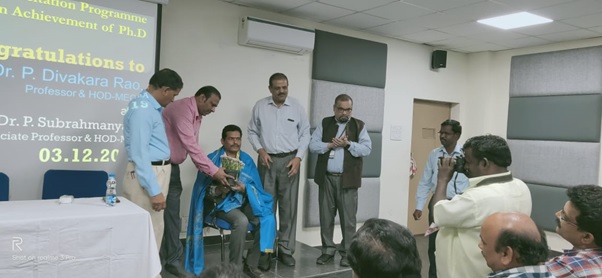 Dr. P. Divakara Rao, Department of mechanical engineering, obtained his Ph.D from JNTUH, Hyderabad on 30 November 2019 is being felicitated by Honourable Secretary Shri J.V. Krishna Rao, CEO Maj.Gen. Dr.S.S. Dasaka, Principal Dr. S.Sudhakara Reddy and Dean R& D Dr. Niraj Upadhyaya
Mr. Gurulingam, Assoc. Prof, Mechanical Engineering department, a motivational speak up Orators Club
faculty members have successfully completed various technical NPTEL Courses offered during January – April 2019. Dr, Divakara Rao, Mrs. Shahin Shaik and Ms J.Sumathi secured Elite+Silver Certification.
A one day seminar on "SAE BAJA" attended by students and faculty at KG. Reddy Engineering College
Faculty of Mechanical Engineering Department, Mr.J Narendra Kumar and Ms.J. Sumathi have attended One day Faculty Development Programme on "Heat transfer enhancement and energy conservation technologies" at JNTU, Hyderabad on Nov-29th 2019.
Dr. P.Divakara Rao has visited the Industrial and agricultural Expo held at Hitex on 06-09-2019.
A one Day Workshop On "Advanced Welding Processes" for Mechanical Staff, Resource person Mr. V. Srinivas Rao
Dr. P. Divakara Rao, Head of Department of mechanical engineering who was awarded "Best Professor in Mechanical Engineering Studies" from DEWANG MEHTA National Educational Awards
Orgainized an Industrial tour to CIMTECH Systems Pvt.LTD, Jeedimetla, Hyderabad on 23-08-2019. III B.Tech Students have visited the industry.
Orgainized an Industrial tour to Bharat Heavy Electricals Limited ( BHEL), Hyderabad on 28-08-2019. III B.Tech Students have visited the industry.
Orgainized an Industrial tour to Rane Engine Valves (p) Ltd, Hyderabad on 23-08-2019. It is the largest manufacturer of engine valves in India with an 85% market share. III B.Tech Students have visited the industry.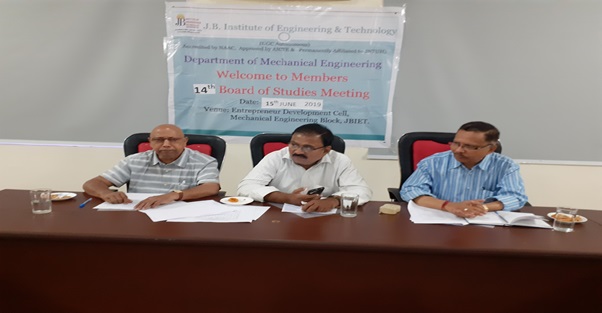 14th Board of Studies for Mechanical Engineering department meeting held on 15th June 2019.
Organized a Three Day Faculty Development Program on "Serial and Parallel Robots" during 19th- 21st of August 2019. Dr G. Satish Babu, Professor of Mechanical Engineering, JNTUH, Hyderabad was Resource person for the Programme.
Conducted a One Day Seminar on "Change Management" by our Alumni Mr K. Narasimha Sandeep, Senior Executive / HR TDX, BHEL, Ramachandrapuram, Hyderabad on 06-08-2019. Students of all the years participated in the event.
Students have participated in Pro-kart championship organized at JNTUK, Kakinada from 12/3/19 to 16/3/19
Students have participated in SAE BAJA 2019 held at IIT Ropar, Punjab from 3/3/19 to 16/3/19.
One week FDP program on engineering drawing using AUTOCAD has been conducted from 28/6/18 to 4/7/18.
One week workshop on SOLAR PV GRID CONNECTED POWER PLANT at National Training Center for Solar Technology, Karnataka from 2/7/18 to 7/7/18 attended by Mr. Nandkishore Singh Thakur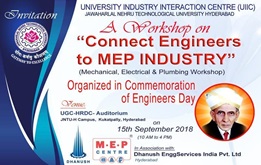 A one day workshop on connect engineers to MEP industry has been conducted at JNTU Hyderabad on 15/9/18 attended by Dr. R.S. Uma Maheshwar Rao and Mr. V.Srinivas Rao.
One week workship has been conducted on Faculty development program on product design engineering using fusion 360 attended by Mr. Md Rafeeq Ur Rahman and Mrs. Shahin Shaikh CMR institute of engineering and technology from 19/11/18 to 24/11/18
One month faculty Induction program under PANDIT MADAN MOHAN MALVIYA NATIONAL MISSION ON TEACHERS AND TEACHING (PMMMNMTT) has been conducted MGNCRE; MHRD has been attended by Shri P.Divakara Rao from 3/12/18 to 31/12/18.
The mechanical Autodidacts BAJA Team (virtual round of BAJA of SAEINDIA) at Chitkara University , Punjab from 12/7/18 to 18/7/18 has been attended by students.
Students have participated in SAE (Society of Automotive Engineers) TIER-II event conducted at CMRCET from 3/10/18 to6/10/18
A one day Entrepreneurship Boot camp has been conducted at JBIET on 2/07/18 has been attended by students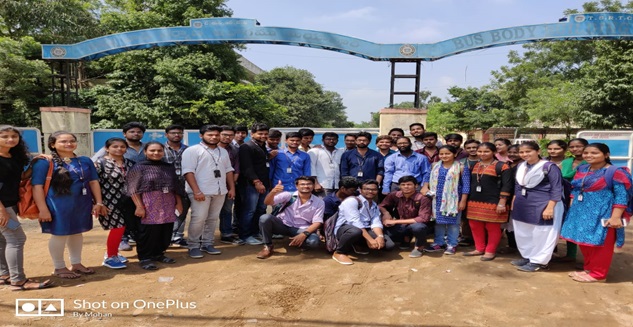 A one day industrial visit for IV year at body building unit TSRTC has been organized on 27th September 2018.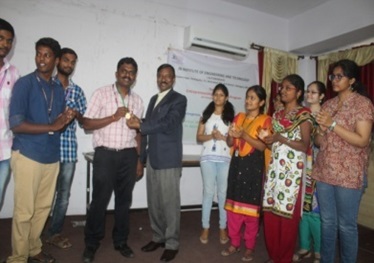 A one day Entrepreneurship orientation program has been conducted By Dr Uma maheswara Rao at JBIET on 28/07/18
2 Days National Conference on Skill India Initiative and Entrepreneurship for a Successful India on

30-09-2015 and 01-10-2015 conducted in EDP Cell ; Dr. G.U. K.RAO,SHRI G. SAMPATH KUMAR and VENKAT VEDIRE acted

as Resource persons

.
Intensive Technical Skills Development Program-1 conducted on 19-10-2015 to 21-10-2015 for Lab Technicians

.
A Refresher Course on 'Automobile Engineering' on 10th Feb, 2015 is held by Department of Mechanical Engineering in MN Rao Auditorium: Mr.K.Aravind Manager Technical Traning Bosch Chennai acted as Resource person.
TIER-II Event are inaugurated and conducted by SAE JBIET Collegiate Club. Mr.Padmanabhan Sci"G', DMRL, SAE International Hyderabad has addressed members of SAE Chapter students on 15 Sep 2014 at EDP Cell. Aeromodelling, Technical Quiz, Engine assembly events were held.
A One week Workshop on Automobile Dynamics & Designing is held by Elite Technogroup in MN Rao Auditorium during 15-21 July 2014.
National Workshop on "Entrepreneurship: the Challenges & Opportunities" is held during 7-8th March, 2014 orgnanized by Mechanical Department in Entrepreneurship Develeopment Cell.
A Seminar on "Nondestructive Testing" is conducted on 4 March 2014 by Department of Mechanical Engineering in association with ASSOCIATED ENGINEERING SERVICES, Hyderabad.
A 3-Day Entrepreneurship Development program in association with Osmania University during 9-11 Jan, 2011 in JBIET Campus.