The department of ECM in best known for its talented and dedicated professionals renowned for their excellence in various specializations in the field of Electronics & Computers. The department is provided with state of the art technological tools incorporated in all the existent laboratories. The augmentation of the intake of the department 60 seats and the accreditation of the department by NBA (AICTE), New Delhi are some of the worth mentioning laurels placed on the crown of the department.
HEAD OF THE DEPARTMENT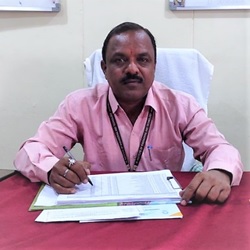 Dr. Narsappa Reddy awarded Ph D degree from the Gulbarga University Kalaburagi Completed M-Tech from J.B.Institute of Engineering Technology Hyderabad, affiliated to JNTU Hyderabad. Completed B-Tech degree from Rural Engg.College, Bhalki, affiliated to Gulbarga University Kalaburagi Karnataka. He has 22 years of experience in teaching Electronics and Communication Engineering courses. Dr. Narsappa Reddy is currently holding the position as a HOD for Department of Electronics and Computer Engineering (ECM) at J.B.Institute of Engineering Technology Hyderabad. He has to his credit fifteen research articles published in national, international journals and also attended in various conferences at the national and international level.
Ph: 9030721667 ​ E-mail: hodecm@jbiet.edu.in
FACULTIES INVOLVED IN CENTRAL ACTIVITIES
Mrs. Kiran Pakmode

NISP Coordinator, III Cell

Mr. N. Thirupathi Rao

NSS Coordinator

Mr. MD. Asif

CGC Coordinator