1. SAEINDIA JBIET Collegiate Club
2. Mechanical Engineering Association
SAE (Society of Automotive Engineers) is an affiliate society of SAE International, registered as an India nonprofit engineering and scientific society dedicated to the advancement of mobility community in India. SAEINDIA The BAJA SAEINDIA is a student competition that presents the undergraduate engineering students with a stimulating task of designing, fabricating and validating an All Terrain Vehicle.
The Baja SAE Series challenges students to produce a prototype off-road vehicle capable of withstanding several different rough terrain conditions. In addition to physically testing the vehicle in competition, each team must present their prototype to a fictitious company. The teams must be able to defend any design decisions and expenses to the company.
Objectives
Any SAE student member team studying in undergraduate engineering college in India, with age above 18 years can participate.
Each team's goal will be to design and build a prototype of a rugged, single seat, off-road recreational vehicle intended for sale to the non-professional and off-road enthusiast.
The students are assigned the task of designing, building, testing, promoting and racing an off road vehicle, that will withstand the rigors of a rough terrain.
The underlying purpose of the event is to provide SAE student members with challenges that reflect the steps involved in the entire process from design and engineering to production and marketing.
Functions
The work done and experience gained by a student SAE member is well appreciated by the automotive industry and helps the student during placements.
The students will have industry like working experience which helps them to improve their technical skills and apply their technical knowledge.
It will be helpful for the students who wish to pursue MS or do research by providing those necessary skills and scope for research work.
The student gets opportunity to attend placements for to automotive industries such as MAHINDRA & MAHINDRA, ARAI, ELEATION, ANSYS, JOHN DEERE, etc. About JBIET SAE BAJA Teams:
During the year 2009, under esteemed guidance of Prof. Y. Vijaya Kumar and Mr. B. V. K. Murthy as Faculty Advisors, SAEINDIA JBIET COLLEGIATE CLUB was established with an intake of 170 students as members of this club.
The club takes privilege in conducting many events like Tier-1 events of Student Convention, organizing many workshops, and taking part in competitions held nation-wide like Pro-Kart, Student Convention and BAJA where students are given opportunities to compete with participants from various colleges.
In BAJA 2011, JBIET was awarded 2nd prize of worth Rs.40000/- in Presentation Division.
Also, SAE INDIA JBIET COLLEGIATE CLUB was awarded "Best Collegiate Club-2011" from Southern Section. Students also participated in EFFICYCLE event.
After few years again in 2015, the SAE collegiate club of JBIET under the name "Team Vulcans" cleared the virtual round and successfully fabricated the All Terrain Vehicle. The team represented JBIET at NATRAX facility of NATRIP, Pithampur, Indore from 16th – 23 rd Feb'2016.
Again, after a brief hiatus, Team 'The Mechanical AutoDidacts' cleared the virtual round of BAJA 2K19 and competed in the Dynamic round held at IIT-Ropar, Punjab from 6th – 11 March 2019.
Rise of The Mechanical AutoDidacts ( JBIET College team 2019):
The Mechanical Autodidacts was formed in the year 2018. We started our journey with members as few as twenty five, but now, we're slowly growing in numbers. 'A self-taught person' is what the word 'autodidact' means and this word aptly tells our team's story. We are making our presence felt at various colleges across the nation with our Go-kart and ATV racing teams.
This year, in the virtual round of SAEINDIA BAJA 2K19, conducted at Chitkara University, Punjab, we have secured 5th position from Telangana and 109 out of 388 all-over India.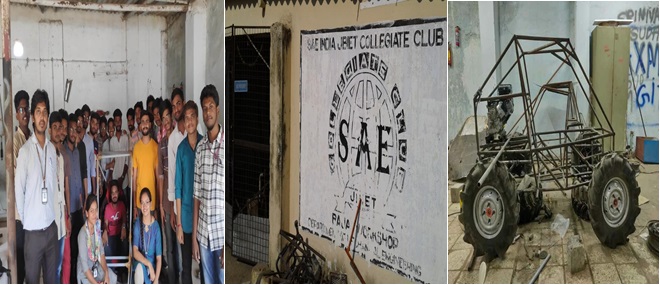 Mechanical Engineering Association is a platform for mechanical engineering students to show case their technical talents. It conducts all the technical events such as Seminars, trainings, MECHFEST, INFOQUEST etc.