Students have participated in Pro-kart championship organized at JNTUK, Kakinada from 12/3/19 to 16/3/19
Students have participated in SAE BAJA 2019 held at IIT Ropar, Punjab from 3/3/19 to 16/3/19.
​
20 Students have participated in different events and won first prize in light weight mobility vehicle at SAE student convention 2017, Tyre-3 event from 25-02-2017 to 26-02-2017 at Kongu University at Erode,Tamilnadu.
Five students have participated and qualified the virtuals in Baja Virtuals on 14 and 15 July 2017 at Chitkara University.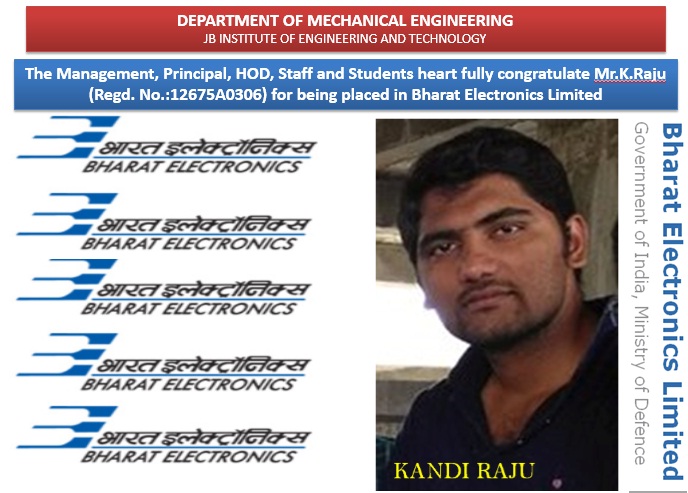 The Management, Principal, HOD, Staff and Students heart fully congratulate Mr.K.Raju (Regd. No.:12675A0306) for being placed in Bharat Electronics Limited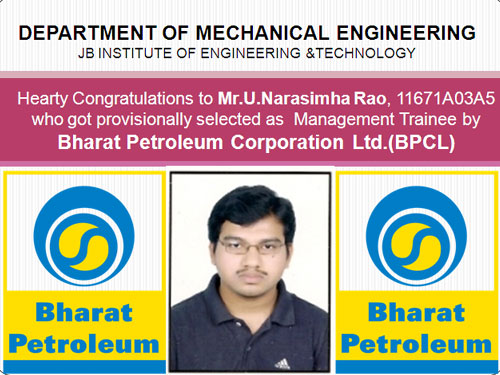 Hearty Congratulations to Mr.U.Narasimha Rao, 11671A03A5 who got provisionally selected as Management Trainee by Bharat Petroleum Corporation Ltd.(BPCL).
Thirteen students of II and III B.Tech Mechanical Engineering have attended TIER III Convention of SAE hosted by Kalasalingam University, Krishnankoil, Virudhunagar District Tamilnadu held during 30th & 31st January 2015. Students have bagged II Prize for their "Club Presentation" event and appreciattion to JBIET SAE Collegiate Club for hosting TIER II Events at JB Institute of Engineering & Technology.
Mr.R.Vikas Kumar Singh of III B.Tech Mechanical Engineering has participated and bagged Two Gold Medals and one Silver Medals in the Inter District Roller Skating Championship-2014 held during 7-10 Nov 2014 at Indira Park, Hyderabad.
Ms.Apurva and Mr.Srikanth Reddy of IV B.tech have bagged a cheque of Rs.5000/- and Certificate of Appreciation for their merit in ENGINEERIA'14, an Engineering Quiz Compitition conducted by CADD Center Training services Pvt. Ltd., during Aug to Sep 2014.
A CNG run two wheeler is designed and fabricated by the IV B.Tech students which was appriciated by the Honorable Secretary Sri.J.V.Krishna Rao. The students were invited to present the project in the Army Grounds Secunderabad on the Eve of "Dharithri Diwas" on 03 April 2012. Army Officials gave
| | |
| --- | --- |
| | |
| Mr.Raghuvamsh, a Mechanical Engineering student of 2008-2011 batch is awarded with prestigious "SUJANA GOLD MEDAL 2011" on 4th April 2012. | Mechanical Engineering students who won 1st prize for their project at TECHNO FEAST 2011, held by JNTUH. |
| | |
| --- | --- |
| | |
| "SAE INDIA JBIET Collegiate Club" being awarded with best Collegiate Club for the year 2011 from southern Section of India. Award was received on 1 Oct 2011. | Mechanical Engg. Dept, JBIET, awarded 2nd prize in Technical Presentation and a cash award of Rs.40,000/- and a Memento, who have participated in "BAJA- 2011" |
STUDENTS-Grants/Achievements/Awards
A project with title "Extraction of water from Atmospheric Air" has bagged 1st prize at project presentation competition at TECHNOFEST 2011 conducted by JNTUH during the academic year 2010-11.
A team of students of our department have designed Effi-Cycle and their design is selected for the competition at SAE competitions which will be held at Chennai during Nov 2011.
A group of students of the department have designed, fabricated a four wheeled all terrain vehicle and participated in the SAE BAJA competition at Pithampur. They have bagged II prize with cash prize of Rs.50,000/- for their technical presentation.
Mr. Bhasker Ranjith of IV B.Tech is selected for Scholarship award by SAE and is presented at the meet conducted by SAE at Chennai during 30 Sep-1 Oct, 2011.
Elected for Best SAE Collegiate Club of INDIA, Southern Section and our students have received this award at Chennai during the meet conducted by SAE during 30 Sep-1 Oct, 2011.
SAE BAJA team on behalf of Department of Mechanical Engineering has participated in the "Effi-Cycle" Race conducted by Preseteious SAE at Chandigarh during 14-16 Oct 2011.