JBIET LIBRARY SERVICES
The JBIET Library is located in the "Main Block" of the campus. It epitomizes the spirit and strength of the institute and offers an excellent opportunity to transform the academic environment of the College campus as a provider of information and a facilitator to learning. It has a rich collection of reference books, textbooks and research journals in both electronic as well as in print formats encompassing the field of engineering and management. Continuous updation using Information Technology or titles procured is incorporated to improve the quality and efficiency of the services that the library provides.
The Library is equipped with Reading Hall, Digital Library, Reference Hall and Newspaper Section with total area of 1148 Sq.m. The entire Library is under the surveillance of CCTV cameras. Library automation is done by KOHA Library Management Software.
Borrowing of General Books:
Each Student borrows 06 books for a time duration of 15 days. Books will be issued to the members only on producing the Identity Card. More than one renewal will not be allowed for Books.
Working Hours.
The Library serves the college community keeping open throughout the year except on National holidays to facilitate the students.
9:00 AM to 6:00 PM on all working days.
RULES & REGULATIONS
Strict and absolute silence shall be observed in the Library.
Mobile Phones to be switched off inside the Library.
Student Bags, Handbags, Raincoat and Jerkin are strictly prohibited inside the library.
Users are requested to keep their belongings in the space provided for their belongings at the entrance of the Library.
Books will be issued to the members only on producing the Identity card. Identity Cards are not transferable.
If any book is lost or damaged beyond repair, the person responsible shall replace it with a new copy or pay double of the cost of the recent price and handling charges or as may be decided by the competent authority.
Any kind of marking, underlining, clipping of books is absolutely forbidden.
More than one renewal will not be allowed for books.
Reference books, Magazines, Journals are not for issue. They are for library reading only.
New arrivals list will be displayed on Library OPAC.
Eatables and drinks are not allowed in the library.
Sleeping is strictly prohibited in the library.
The Library may accept the donation of manuscripts, books, periodicals etc. from the donors. Such donations once accepted will become the absolute property of the College.
The books should be returned in on or before the due date else fine will be incurred for each day of delay as the student can borrow the books for the period of 15 days.
DIGITAL LIBRARY RULES & REGULATIONS:
Digital Library is to be used for academic purpose only.
Browsing of social networking sites and Online Chatting is strictly prohibited. Strict disciplinary action will be taken against the defaulters.
Changing the settings and display of the Computers kept in the Library is not permitted.
Playing games on computers is strictly prohibited in the entire Library premises.
Pen drives, CD/DVD ROMs, Cell Phones are not allowed to be used in the Digital Library.
Book Lending Facility
The details of borrower categories and their entitlements
| | | |
| --- | --- | --- |
| Borrowers Type | No. of Books | Loan Period |
| Faculty Members | 06 | Semester |
| Students | 06 | 15 Days |
AICTE list of Books by Indian Author's / Publishers - Atrnanirbhar Bharat Abhiyan
ADVISORY COMMITTEE
| | | | |
| --- | --- | --- | --- |
| S.No | Name | Designation | Position in Committee |
| 1. | Dr. S Sudhakara Reddy | Principal | Chairman |
| 2. | Dr. Himanshu Sharma | Assoc.Prof, ECE | Dean ILS |
| 3. | Dr. M.Suresh Babu | Librarian | Convener |
| 4. | Dr. Towheed Sultana | HOD ECE | Member |
| 5. | Dr. P.Srinivasa Rao | HOD CSE | Member |
| 6. | Dr. P Durai Pandy | HOD EEE | Member |
| 7. | Dr. A. Krishna Niveditha | HOD CE | Member |
| 8. | Dr. R. S Uma Maheshwar Rao | HOD ME | Member |
| 9. | Mr. K. Roshan | HOD ECM | Member |
| 10. | Dr. L. Sridhara Rao | HOD IT | Member |
| 11. | Dr. Ch. Veera Reddy | HOD MINING | Member |
| 12. | Dr. Sumagna Patnaik | HOD MCA | Member |
| 13. | Dr. P Subramanyam | HOD MBA | Member |
| 14. | Dr. B. Swarnalathamma | HOD S&H | Member |
DEPARTMENT LIBRARY
In addition to central Library, every Department of the College maintains their own Departmental Library with adequate collection of text and reference books and journals to cater more students. Faculty/Students shall be issued additional book at the department library in addition to the central facility. Both National and International journals are made available in the Department Library for the convenience of faculty and students.
LIBRARY COLLECTION
J.B. Institute of Engineering & Technology Library comprises a multifaceted and growing system that supports faculty and student curricular needs and for research.
Our collections include:
More than 70000 volumes
9913 titles
120 National and International Journals
Electronic resources
As journal subscriptions continue to evolve from print to electronic access, we consider a number of factors in determining how best to do so.
Number of Library Books / Titles / Journals Available (Programme-Wise)
| | | | | |
| --- | --- | --- | --- | --- |
| S. No. | Course Name | Number of Titles Available | Number of Volumes Available | National / International Journals Available |
| 1 | B.Tech CE | 751 | 4916 | 06 |
| 2 | B.Tech EEE | 1162 | 8904 | 12 |
| 3 | B.Tech MECH | 1063 | 8049 | 12 |
| 4 | B.Tech ECE | 1169 | 9111 | 12 |
| 5 | B.Tech CSE | 1926 | 13136 | 12 |
| 6 | B.Tech IT | 1114 | 7901 | 06 |
| 7 | B.Tech ECM | 372 | 2148 | 06 |
| 8 | B.Tech MINING | 283 | 2100 | 06 |
| 9 | M. Tech. (EPS) | 321 | 1581 | 06 |
| 10 | M. Tech.(CSE) | 319 | 1517 | 06 |
| 11 | M. Tech. (VLSISD) | 301 | 1304 | 06 |
| 12 | M. Tech. (SE) | 196 | 1002 | 06 |
| 13 | M. Tech. (CAD/CAM) | 191 | 804 | 06 |
| 16 | S & H | 164 | 5012 | 06 |
| 17 | MBA | 581 | 6501 | 12 |
| | GRAND TOTAL | 9913 | 73986 | 120 |
| | |
| --- | --- |
| CDs | 1241 |
| Bound Volumes of Journals | 1601 |
| Project Reports | 4201 |
| SC & ST ( Book Bank ) Collection | 4368 |
Special Collection
| | |
| --- | --- |
| Mc. Graw Hill Encyclopedia of Science & Technology | Set of 20 Volumes |
Information Services & Products:
IEEE
DELNET
N-List
National Digital Library
OPAC (Online Public Access Catalogue)
Reprographic Service
Digital Library Service
e-Books
Internet Surfing
NPTEL Videos
New Arrivals on Display & Current Content Service
STAFF DIRECTORY
| | | | |
| --- | --- | --- | --- |
| S. No. | Name of the Staff | Qualification | Designation |
| 01 | Dr. Suresh Babu | M.A., M L.I.Sc., P. G. D. C. A. Ph.D | In charge – Library |
| 02 | P. Prabhaker Rao | M.Sc., M L I Sc & PGDLAN | Librarian |
| 03 | K. Krishna | B.A., B.L.I.Sc | Library Asst. |
| 04 | D.V.K.N. Sai Kumar | B.Tech | Digital Library Asst. |
| 05 | D. Asiraiah | Matric | Record Assistant |
| 06 | J. Mallesh | Intermediate | Attender |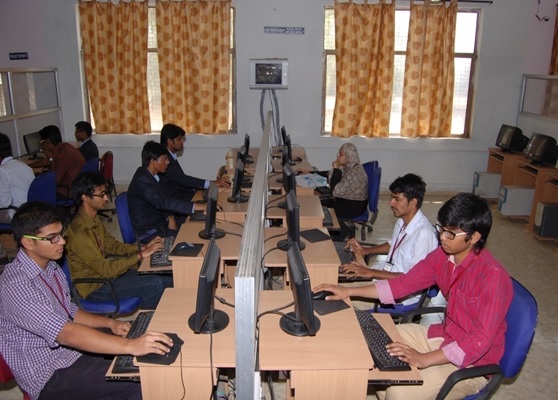 Digital Library